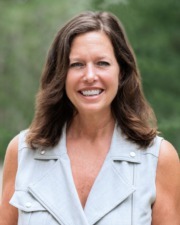 Kathleen joined the Team after relocating to Vero Beach from Cleveland, Ohio where she enjoyed a teaching career for over 20 years. Her master's degree in mathematics and expertise in technology helped her become a leader in her field and also provide professional development to her peers. After spending several summers residing in Vero Beach Kathleen decided it was time to make the full time move and leave her career in education. Her brother-in-law Scott welcomed her onto the team.
Kathleen's high energy, determination and competitive spirit quickly skyrocketed her into being a top Realtor in Vero Beach. She works tirelessly and is dedicated to tending to the needs of each one of her clients. Kathleen and her husband Jason reside in Central Beach where they enjoy walking to all the beachside amenities. So Kathleen has become a local expert and stays current with new properties that come on the market for sale. She prides herself in providing the upmost in customer service and loves seeing her clients happy when they move on to the next chapter of their lives.
Considering moving to Central Beach? Check out the Ultimate Central Beach Guide to learn more about the lifestyle and of this popular neighborhood.