Remarkable Record-Breaking Sale in Millstone South, Vero Beach, FL
Posted by Blair Jones on Wednesday, August 30, 2023 at 11:52:37 AM
By Blair Jones / August 30, 2023
Comment
We are thrilled to share an exceptional achievement that has set new benchmarks within the Millstone South community that has captivated the market's attention. Allow us to present the remarkable details of this transaction that underline our commitment to excellence and expertise in the Vero Beach real estate landscape.
Unprecedented Sales Price for a 3 Bedroom Home
It is with great pride that we announce the attainment of the highest sales price ever recorded for a 3 bedroom home within Millstone South. This noteworthy accomplishment underscores our comprehensive market understanding, meticulous planning, and diligent execution.
18 Days on the Market - A Testament to Effective Strategies
Efficiency is a cornerstone of our approach, and this remarkable achievement was realized in just 18 days on the market. Our strategic pricing, targeted marketing, and meticulous negotiation ensured a swift and mutually beneficial transaction for both seller and buyer.
Sold for $430,000 - Redefining Market Expectations
The final sale price of $430,000 stands as a testament to the intrinsic value of this exceptional property. Through comprehensive market analysis and a tailored approach, we positioned the property for a sale that is reshaping the perceptions of real estate possibilities in Millstone South.
An Engaging Home Tour Experience
The property's virtual tour garnered significant attention, amassing over 100k views over various social media platforms, coupled with 843 clicks to the detailed home description. This digital presentation captivated potential buyers, offering them an immersive experience that highlighted the property's unique attributes.
Elevated Visuals Through Professional Photography
Visual appeal is paramount, and our investment in professional photography ensured the property was presented in the best possible light. These captivating visuals served as an invitation for prospective buyers to envision their future in this remarkable residence.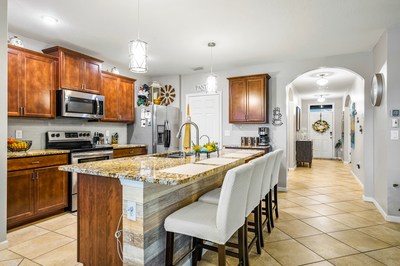 Extensive Online Exposure Across Platforms
Our meticulous online marketing strategies resulted in over 200k realtor views across various backend real estate websites. This strategic digital presence ensured the property gained significant traction within the industry.
Targeted Outreach to a Robust Buyer Database
With an extensive database of 27,000 discerning buyers, we employed precise targeting to ensure the property was showcased to those with aligned aspirations. This approach facilitated meaningful connections between the property and potential buyers.
Expert Negotiation by Blair Jones, Esteemed Realtor
Behind every successful transaction lies the art of negotiation, and Blair Jones, one of our esteemed top realtors, exhibited exceptional negotiation prowess. Her strategic acumen paved the way for a mutually beneficial agreement. Work with Blair Jones by Clicking Here
Embracing a New Chapter in Millstone South
This groundbreaking sale signifies more than a transaction; it marks a pivotal moment in Millstone South's real estate narrative. Should you be contemplating the sale of your property or seeking an astute investment, we invite you to leverage our expertise to achieve your goals.
Work With The Top Realtors in Vero Beach, FL